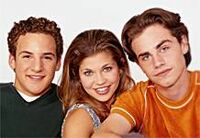 Boy meets girl. Boy chats up girl. Boy buys girl a drink. Boy buys girl 8 more drinks. Girl meets boy's buddy. Boy, girl, and buddy return to boy's studio apartment. Boy puts on the Sisqo CD. Boy pours G and Ts for girl and buddy. Boy, girl and buddy fold down the futon.
The Devil's 3Some.
Tonight the Sexy Burger Six put an innocent spin on a despicable act. Breakfast for dinner is a favorite for a lot of people (especially Mr. Lickle Tickle as you will see in his photo post). And since none of us ever plan to be awake early enough to have Sexy Burger open for breakfast, we thought dinner would be the perfect time to have the D3.
The D3 is a work in progress. I personally like the name more than the burger, and unfortunately we are trying to sell burgers, not names. In the future this could be a totally different burger. Several ideas have been bounced around for tweaking this incarnation of the burger (two kinds of meat and an egg for 2 males and a female is the leading alternative) or this could just become the Breakfast Orgy and the Devil's 3Some could be dropped as a name altogether.
My lovely better half put it best in her post that evolved into a social commentary on the Jersey Douche. Frozen breakfast foods just do not work unless it says Eggo on the box (
check out this article about the strange national Eggo shortage
) . I am a little ashamed we used them. We are better than that. Admittedly we were a little tired and hung over from the Erickson wedding and did not commit to this burger 100%.
Well my faithful burger followers, all 4 of you, on this day, I promise you to never again go half ass on any burger no matter what state of health and mind I am in. We owe you more. We owe ourselves more. We owe our burger pioneers more. For our next burger, you shall have more.
See you next burger.
Mr. Barneby Jones' take on the Devil's 3 Some
The Spot's take on the Devil's 3 Some