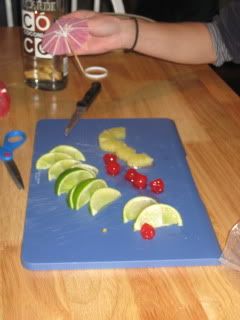 When life gives you limes, you make a burger.


Boom! These are some tiny ass, brightly colored umbrellas. Placed in your glass, you
almost
feel like you are basking in the Hawaiian sun.




These were loaded with rum.




We thought this cheese wouldn't melt, but it nicely coated the top of our burgers. Our breath reeked sweetly with the smokiness of the cheddar.




This definitely tasted as delicious as it looked.




Just bathing the burgers with teriyaki.




These were perfectly crisp. It also reminded us of sand. There is a lot of Hawaii in this burger.




Mmmmmm!




Kinda makes you think of a beach, right? Except you can eat this sum of a bitch and it tastes wicked good.